InfoVisor Analyzer is intended for:
exploration of relational databases contents;
multidimensional analysis of aggregated data;
cross-table reports generation;
report visualization in the forms of business charts and informational geographical maps;
report export into standard formats of documents and graphics files.
InfoVisor Analyzer may be used by IT and system analysis services to prepare reports, forecasts and recommendations for decision support. This system is useful for processing large amounts of collected data.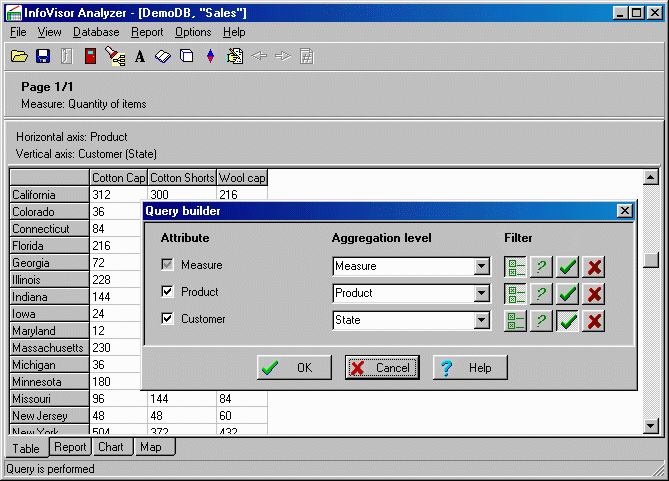 InfoVisor Analyzer can process databases through multidimensional information models stored there in analytical metadata. Such models may be developed in InfoVisor OLAP-Designer, a tool of information system administrator.
The basic features of InfoVisor Analyzer are as follows.
Connection to relational databases with analytical metadata that may be accessed via ODBC or IDAPI protocols. Analytical metadata may be edited by means of InfoVisor OLAP-Designer.
User interface for making multidimensional queries to information models.
Generation of cross-table reports with the ability to group dimensions, rotate axes, make filters and browse multipage reports.
Reports visualization in the form of business charts.
Reports visualization in the form of information maps (if one of the report dimensions is bound to geography).
Cross-table reports export into hypertext format (*.html) and MS Excel tables (*.xls) and graphics export into standard formats (*.bmp, *.wmf, *.emf, *.jpg).